The D-ONE Diving Helmet from Italian company DRASS Galeazzi stands out for its modularity, ergonomics, ease of inhalation, and greater field of vision.
Guillermo Reparaz
August 26, 2022
Since 1927, Italian company DRASS Galeazzi has gained international fame for designing and manufacturing innovative subsea diving systems as well as diving accessories such as diving helmets, diving suits, boots, weights, and knives – all of which have become collector's items achieving very high bids at auction.
Continuous innovation is in the company's DNA and so, perceiving a market need for a redesign of the standard diving helmet, D-ONE Diving Helmet was born to adapt to the growing needs of a new generation of divers whilst integrating the latest advancements in subsea technology.
With its first release in 2017, D-ONE includes notable enhancements for an even more complete underwater experience in terms of operability, safety, and ergonomics.
Ergonomics, ease of inhalation, and better field of vision 
Its newest features include an ergonomic design with an angled back that allows for a fully comfortable experience with better range of motion whilst avoiding neck strain, especially when looking up. It is also easier to don and remove and offers a greater field of vision (placing the face closer to the already wide-angled viewport).   
There is also the possibility of customization with accessories such as a camera and light, a welding shield, a water shroud – protecting valves in debris-laden areas – and a defogger.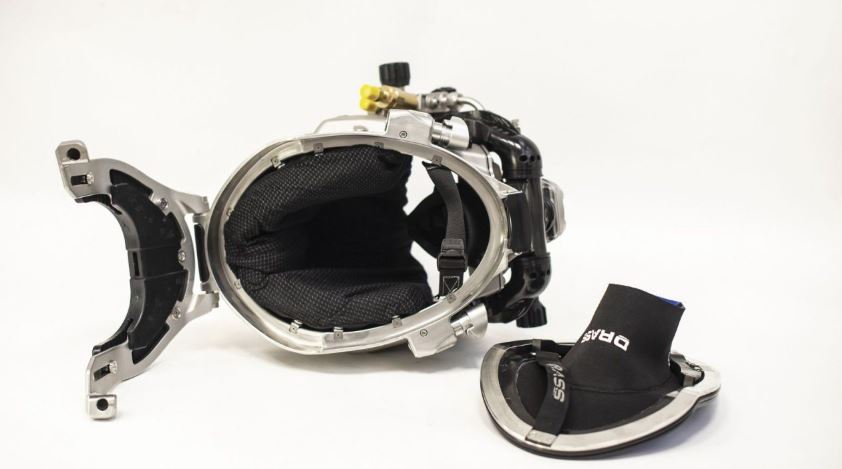 The helmet's 30–degree rear angle makes it easier for the diver to don and remove, and this tilted exterior eliminates neck fatigue when looking upwards. 
The D-ONE being tested by DRASS engineers during one of its rigorous performance tests prior to guaranteeing its serial production.
Without a doubt, D-ONE is a design feat that speaks highly of DRASS' research and development team comprised of highly qualified engineers as well as dive professionals with extensive field experience.
According to DRASS designer Angelo Ricchiuti, "The geniality of D-ONE is that it has been designed around the concept of modularity: a helmet shell that adapts to different diving environments by means of interchangeable pods for air, rebreather and reclaim. If you need to dive in polluted water, the helmet can also be reconfigured with a recovery that completely prevents contact with outside water. Together with a dry suit and a water shroud, the diver is effectively isolated from the surrounding environment," he explains.
Technical data
With a weight of 14.8kg and an air depth of 50msw, D-ONE is equipped with safety systems that ensure that, even in the event of a malfunction, the helmet maintains a water-tight seal preventing flooding or dislodging.
Its shell is made entirely of 316L stainless steel, and its polyurethane gaskets ensure premium durability in the saline environment.
The new DRASS D-ONE helmet on display at ADI Industrial Design Museum in Milan as part of its award-wining design collection.
In October 2021, D-ONE diving helmet was selected at a national level to showcase the best of Italian technological innovation and design at the G20 World Summit of Heads of State and Government held in Rome. And in 2022, D-ONE's greatest recognition arrived when it was awarded the prestigious Menzione d'Onore (Honourable Mention) from the renowned ADI Italian Association of Industrial Design, by a jury that evaluated 500 shortlisted products designed in the last three years.
Now, having earned its permanent place in the famous ADI Museum in Milan, D-ONE is part of the esteemed Compasso d'Oro (Gold Compass) collection that celebrates the best in Italian design by showcasing design masterpieces since its founding by Gio Ponti in 1954.
For price and availability of D-ONE Diving Helmet, enquire directly with DRASS.