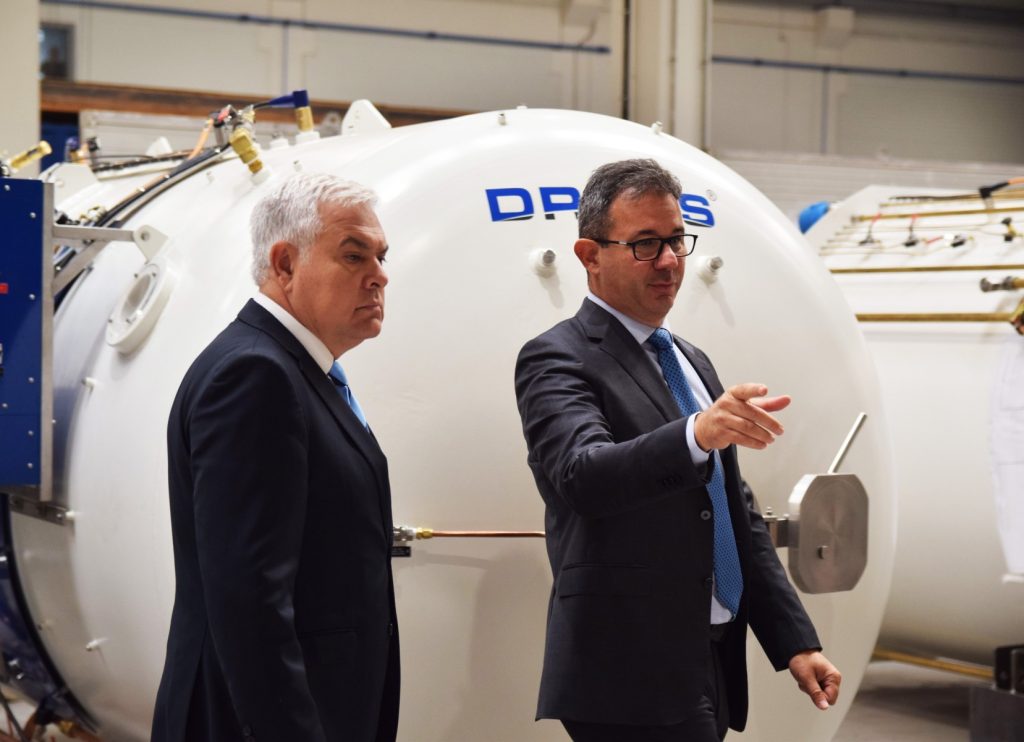 EN
National Defence Minister Angel Tîlvăr visits DRASS Romania
DRASS Romania hosted a parliamentary delegation on Friday welcoming Minister of National Defence Angel Tîlvăr and the MapN delegation that included Deputy Chief of the Defence Staff Gl. Lt. Gheorghiță Vlad, Deputy for Resources to the Army Chief of Staff Gl. Bg. Bixi Mocanu, Head of Health Department of the Ministry of Defence Gl. Dragoș Popescu, together with Interim President of the Chamber of Deputies of the Romanian Parliament Alfred Simions and Member of Parliament of Timiș county Mihai Ritivoiu.
This official visit was an occasion to present the latest generation ultra-deep diving and defence solutions including DRASS LH-300 Simulated Diving Facility, in operation at the Military Diving Centre at the Costanta naval base, the most state-of-the-art facility of its kind worldwide. Since the training facilities inauguration in recent years, DRASS LH-300 is proving to be an invaluable training resource for national and international special ops forces. A tour of DRASS engineering and manufacturing facilities introduced the delegation to the DG Class compact submarines and DS Class SDVs (swimmer delivery vehicles) currently in production, where their specification and application was highlighted.
Minister Angel Tîlvăr stressed the importance of a national supplier of high-performance technology in Romania for equipping the Romanian Army with technological solutions, as well as the benefits in terms of employment and investment to the national economy.
DRASS was honoured to host Minister Tîlvăr and his entire delegation, and once again extends its thanks.
RO
Ministrul Apărării Naționale, Angel Tîlvăr, vizitează DRASS România
DRASS România a găzduit, vineri 29.09.2023, o delegație parlamentară condusă de Ministrul Apărării Naționale, Angel Tîlvăr, împreună cu membrii ai delegației MapN, din care au făcut parte locțiitorul șefului Statului Major al Apărării, gl. lt. Gheorghiță Vlad, adjunctul pentru resurse al șefului Statului Major al Armatei Gl. Bg. Bixi Mocanu, șeful Direcției Sănătate din Ministerul Apărării, Gl. Dragoș Popescu, dar și președintele interimar al Camerei Deputaților din Parlamentul României, Alfred Simonis, și Prefectul județului Timiș, Mihai Ritivoiu.
Această vizită oficială a prilejuit prezentarea soluțiilor de ultimă generație pentru scufundări la mare adâncime și de apărare, inclusiv Laboratorul hiperbar LH-300, aflat în funcțiune la Centrul Militar de Scafandri de la baza navală Constanța, cea mai modernă facilitate de acest gen din lume. De la inaugurarea sistemului de scufundări, LH-300 s-a dovedit a fi o resursă de instruire neprețuită pentru forțele naționale și internaționale de operațiuni speciale.
În cadrul unui tur al delegației in zona de producție au fost prezentate submarinele compacte din clasa DG și SDV-urile din clasa DS (vehicule de livrare înotătoare) aflate în prezent în producție, unde au fost evidențiate specificațiile și aplicarea acestora.
Ministrul Angel Tîlvăr a subliniat importanța unui furnizor național de tehnologie performantă în România pentru dotarea Armatei României cu soluții tehnologice, precum și beneficiile în ceea ce privește ocuparea forței de muncă și investițiile pentru economia națională.
Compania DRASS a fost onorată să-l găzduiască pe ministrul Tîlvăr și întreaga sa delegație și își exprimă încă o dată mulțumirile.